Profile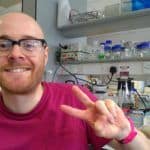 Pete Gwynne
Curriculum Vitae
Education:

School until 2007, then Cardiff University until 2010, then The University of Edinburgh until 2014

Qualifications:

A-levels in biology, chemistry, and history, a degree in biochemistry and a PhD in microbiology

Work History:

A student union bar, and now the University of Edinburgh

Current Job:

Research scientist

Employer:
Favourite thing to do in my job: Solving problems

About Me: I'm worried that I won't be able to answer any of your questions.

Read more

I like science, but I'm also quite lazy which is why I sign up to do this sort of thing instead of my actual job. I also like to avoid work by watching sport and eating food, often at the same time.

My Work: Helping different companies fix their biology problems

Read more

Currently I'm working with a drugs company who use bacteria to make their product. We're doing some genetics with their bacteria to try and make more product, or make it better.

Before that I worked with a laser company to test whether their lasers could kill bacteria, so we could use them instead of antibiotics in hospitals. Their lasers didn't work, but I still think there's a way to do it.

I've also done some research into plastics that cells can't stick to, which might be useful to stop medical devices getting infected. My first project was looking at how bacteria change when they start causing disease to see if we might be able to design an antibiotic to stop the changes.

My Typical Day: https://youtu.be/oSwtdW53-Tc

Read more

I filmed everything I did for a day and uploaded it. There's a better quality version here: https://youtu.be/oSwtdW53-Tc

(I did edit it down a bit)

Please don't tell my boss I had my phone out in the lab.

What I'd do with the prize money: Science videos

Read more

I'd like to do some videos of little experiments and ideas and things, probably done in my kitchen. It'd be good to design some experiments to answer the questions we're being asked. Things like "how long does it take to build a robot" or "why is the moon so bright?"

I'll need to buy a couple of cameras though, and some computer software for editing. I might also need a space shuttle for the moon one.

My Interview

How would you describe yourself in 3 words?

Rule-breaker

What or who inspired you to follow your career?

Curiosity? I wanted to learn about biology and it happened by accident

What was your favourite subject at school?

PE

What did you want to be after you left school?

A doctor, until my first year of university

Were you ever in trouble at school?

Never get caught.

If you weren't doing this job, what would you choose instead?

A cricket commentator

Who is your favourite singer or band?

Belle and Sebastian?

What's your favourite food?

Anything French

What is the most fun thing you've done?

I once parachuted onto a yacht in Barbados without spilling my drink (that is a lie)

If you had 3 wishes for yourself what would they be? - be honest!

Olympic gold medal, Nobel prize, move to France (in that order)

Tell us a joke.

Two monkeys in a bath. One says "ooh aah ooh ooh aah". The other replies "well put some cold in then"
---
---