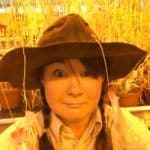 Wow, where do I start? I think firstly I'd like to thank everyone that took the time to send me a question and to vote for me in the Plutonium Zone, you are all totally awesome! Doing I'm a Scientist, Get me out of here has been so much fun and I've learned a lot of really cool facts that I never knew before like how old I am in Mercury years (137) and that starfish don't have blood! One of the very cool things your questions did was make me think about how I approach my research… I was making some things too complicated (scientists do that sometimes) but you have helped me realise I can take a far simpler approach to one of my experiments so mega thank you for that!!!
I never ever thought I would win this – I'm still shocked but really grateful and happy. I actually jumped up and screamed when I found out, and everyone looked at me like I was a bit weird ha ha. James, Simmone, Jake and Pete were all so cool and it was a pleasure to learn about the work they do and to get to know them as people too.
Thank you all for the questions and the live chats, those were so crazy! Crazy but so much fun. It's brilliant to see such enthusiasm from all of you, the range of your questions was way beyond what I could ever have hoped for; everything from "have you ever skinny dipped?" to "what is the molecular calculation for the p-orbital", you all certainly kept me on my toes. A massive thanks to the moderators for their hard work keeping our live chats running smoothly and for everything they do to organise and run the event, they also sent on quite a lot of emails for me to your schools with the fake poo activity packs or arranging a visit from me to do the activity in person. I really hope you all enjoy trying it out.
I'm also really grateful to Dundee University for being so supportive of me taking part in the event and to the Wellcome Trust for funding it. Now that it's over it feels weird not having lots of brilliant questions to answer at night or having to do finger exercises in between live chats but I'm looking forward to planning my outreach activity now. I hope that myself, Pete, Jake, Simmone and James helped show you just how different and normal scientists are. My biggest wish though is that we managed to inspire you to really work hard to achieve your goals… not just to be scientists, I saw some of you want to be teachers, dancers, engineers and all sorts of other things. You are all awesome enough to do that and I really hope you do.
Thank you all so much again, this has been such a great experience, I hope you all enjoyed it too.
Senga 🙂
Scientists! If you'd like the chance to win funding for your own public engagement work, apply for the next I'm a Scientist, Get me out of here: imascientist.org.uk/scientist-apply